A magical homemade Healthy Starbucks Unicorn Frappuccino with blue yogurt swirls, dragon fruit and mango smoothie, topped with homemade coconut whip!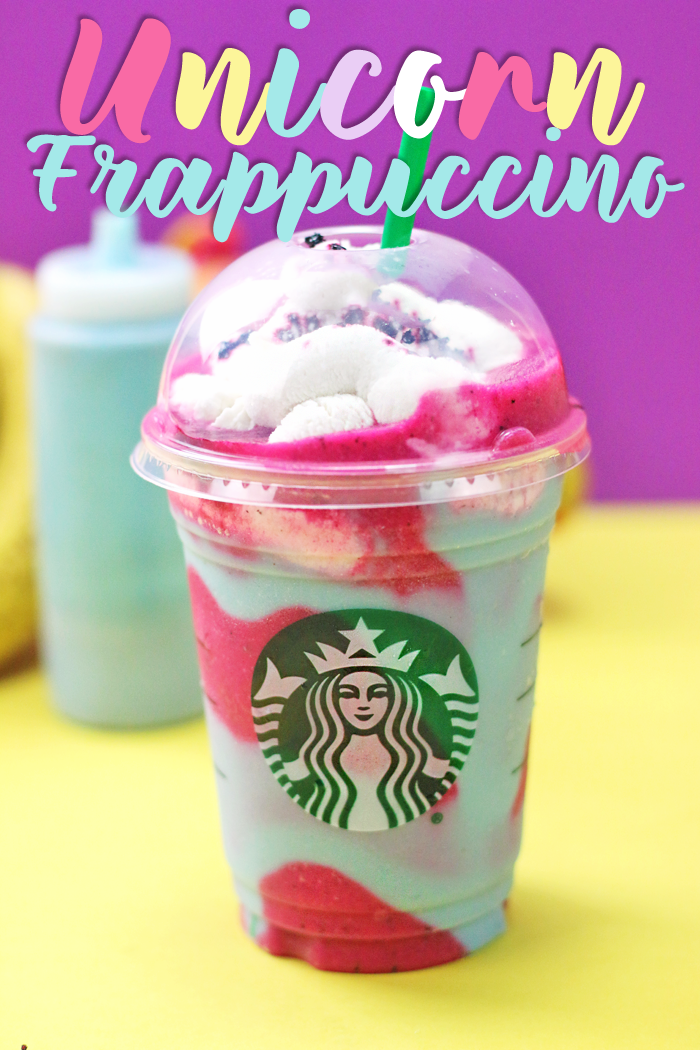 Now unless you've been living under a rock you've probably noticed that the new Starbucks Unicorn Frappuccino has taken over social media. To be honest I haven't actually tried it since it sold out pretty quickly and I'm not all about that 60g of sugar per drink life so instead I make my own!
When I first saw a taste test video of this Unicorn Frappuccino on YouTube I knew I had to recreate a fun healthy option so everyone could enjoy on the unicorn rainbow fun and because sometimes I just like to have fun in the kitchen. The blue yogurt swirl was actually a bit hard to create… naturally coloured blue foods is a bit tricky since there aren't really many blue foods in nature besides blueberries that I can think of.
After I picked up the wrong E3Live powder I had to improvised (aka Google the crap out of homemade natural blue dye) and found this amazing article here about how you can turn red cabbage juice and baking soda into a deep blue dye.. all I have to say is WOW Science!
Now let me tell you about the bright purple smoothie base in this Unicorn Frappuccino drink. I have been waiting for an excuse to buy pink dragonfruit as I've seem so many beautiful smoothie bowls on Instagram lately. So this was the perfect chance to try it! I also blended in some banana and mango to give it a tropical burst of flavour a smooth creamy texture. To top it off, I "whipped" up some of my homemade coconut whipped cream and sprinkled on some beet crystal powder  for some healthy sprinkles.
Recipe
Healthy Starbucks Unicorn Frappuccino
A magical healthified homemade Unicorn Frappuccino with blue yogurt swirls, dragon fruit and mango smoothie, topped with homemade coconut whip!
1

cup

frozen bananas sliced

1/2

cup

frozen mango chunks

1/2

cup

pink dragon fruit chopped

1/2

cup

unsweetened almond milk

2

ice cubes

optional

1/2

cup

vanilla Greek yogurt

1/2

tbsp

*homemade blue food dye

recipe here

OR

1

capsule E3Live Blue Majik powder

Find it here
Print Recipe
Save Recipe
In a high-speed blender add in almond milk, dragon fruit, banana, mango, ice cubes and blend until smooth. You can add in more liquid depending on how thick you want your smoothie.

Mix up your blue food colouring with the yogurt and mix until you've reached a nice blue yogurt swirl colouring and transfer into a piping bag or squeeze bottle.

Take your cup and starting from the bottom swirl the clue yogurt about the sides while turning the cup and moving upwards to the top of the cup.

Next, pour in your pink smoothie base and top with coconut whip and beet crystal sprinkles.
*you can freeze your dragon fruit if you want a thicker icy texture.
*you may need to add more blue food colouring just keep adding small amounts at a time and waiting a bit for the yogurt to turn a nice deep blue.
similar recipes