A creamy dairy-free veggie infused, Garden Vegetable Dip to serve at your next pot luck party or gathering!
There's nothing like a good chip or garden vegetable dip when you're at a party or just hanging with friends for a night in. This is an easy veggie dip loaded with vegetables, herbs and blended with cashews to create a creamy dairy free "cream cheese" like dip.
I was inspired to create this dip by Manitoba Harvest's Hemp Heart Toppers. They have a bunch of sweet and savoury flavours, but for today's veggie dip I used their Onion, Garlic & Rosemary blend and it was DELISH!
The best part about this chip or veggie dip is that you don't have to feel bad about over indulging in it. It's made with REAL ingredients and doesn't contain any MSG or artificial flavours like those soup packages you often find in your favourite spinach dip. Who knew you could get a serving of vegetables while snacking on a yummy veggie dip 😉
Whether its for New Years, a girls night in or just some Netflix and Chill you can have this delicious and healthy veggie dip on hand to whip up when your feeling snacky before or after dinner.
If you make this recipe, be sure to share a photo on social media and tag me @urhealthnut #healthnuteats so that I can see your creations! 
Thank you to Manitoba Harvest Hemp Foods for sponsoring this post and supporting me in bringing healthy and delicious recipes to all my HealthNut friends on the Internet.
Recipe
The Best Veggie Dip | Dairy-Free
A creamy dairy free veggie infused dip to serve at your New Years party this year!
1-2

tbsp.

Manitoba Harvest Onion

Garlic & Rosemary Hemp Heart Toppers

1 ½

cup

cashews soaked for 4 hours

¼

cup

filtered water

½

cup

chopped carrots

1

celery stalk chopped

1/2

red pepper chopped

¼

cup

olive oil

2

tbsp.

lemon juice

2

garlic cloves minced

¼

cup

red onion

1

green onion chopped

1

tbsp.

fresh dill

1

tbsp.

fresh chives

1/2 tbsp. if using dried

1/2

tbsp.

garlic powder

1

tsp.

sea salt

¼

tsp.

paprika

¼

tsp.

black pepper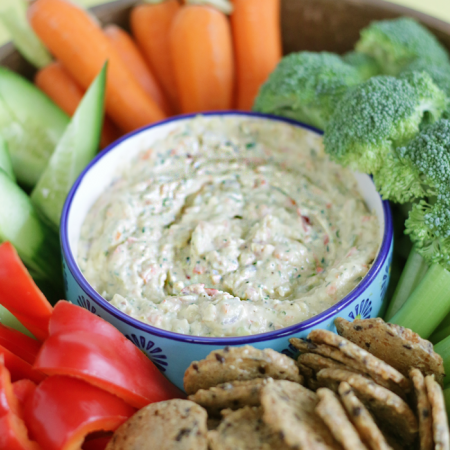 Print Recipe
Save Recipe
Drain and rinse soaked cashews.

In a high-speed blender, blend together cashews, olive oil, lemon juice and water until smooth (roughly 30 -60 sec) scraping in between or using a tamper.

Transfer cashew cream to a food processor along with the remaining ingredients and process for about 10-15 sec, stopping to scrap the sides down in between. You don't want it to be too smooth; you want to leave some colour and chunky bits throughout for texture and flavour.

Transfer to a Tupperware container and refrigerate for 2-4 hours.

Once chilled plate it with a variety of chopped veggies and crackers and you're ready to serve!
similar recipes