The complete how to guide on building a DIY Poke Bowl 3 ways with fresh ingredients and the perfect marinade in 5 easy steps!
If you love Sushi than you're going to fall in love with Poke Bowls aka what I like to call a Sushi Bowls or deconstructed Sushi rolls. If you've never had a Poke Bowl before its basically a bowl filled with layered components of a Sushi roll all in one each to eat delicious bowl, no chopsticks necessary.
Before writing this post I had to do some thorough Poke Bowl taste testing (wink wink) at various restaurants in Toronto and now that I've done the tedious research I'm coming at you with all of my how to poke knowledge so you can make them right at home!
I've broken it down into 5 easy steps in how to build your poke bowl right at home with fresh and flavourful ingredients that are nourishing and just fun to eat.

Step One: It's all about that BASE
You first want to start with some sort of base and this could be a grain like basmati rice, quinoa or soba noodles which all happen to be gluten free. If you're looking for something lighter you can also sub in some fresh baby spinach or a spring salad mix and turn this into a Sushi salad bowl.
Step Two: All the Toppings!
Next step is to choose a variety of colourful fruits and veggies like edamame, cucumber, mango, pea shoots, radish… you name it! get inspired by your favourite Sushi rolls and create a Poke Bowl version. I also like to incorporate a combination of different textures like crunchy carrots and buttery avocado.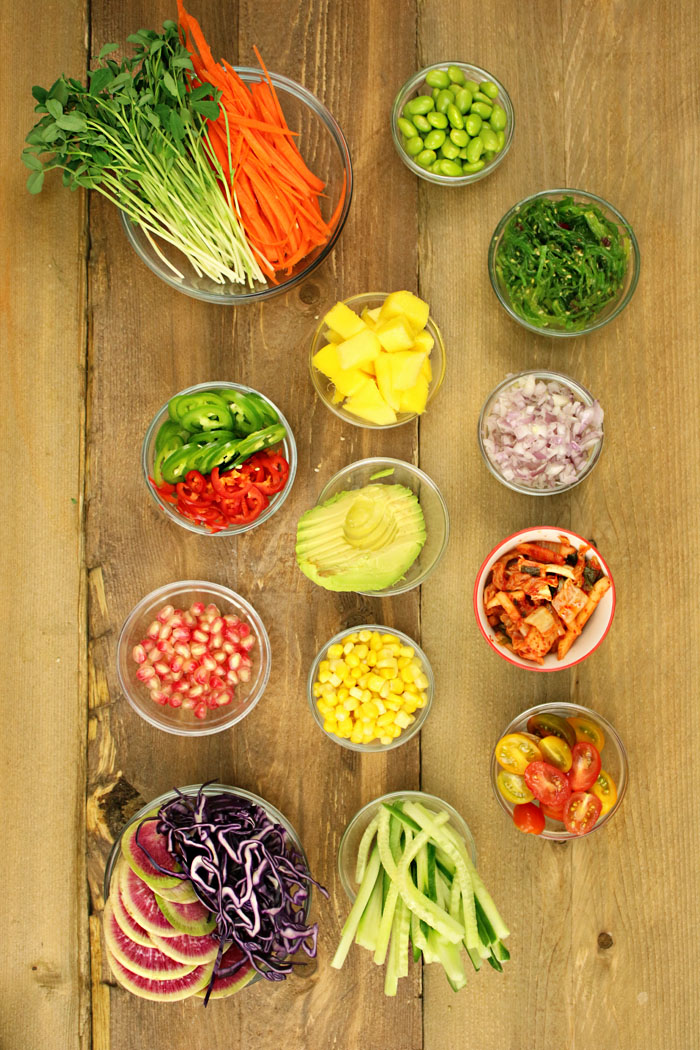 Step Three: Choose your Protein
Next up you'll want to add some type of protein so you wont be eating just grains and veggies. you can really add anything meat, fish or veggie option you'd like although traditional Poke Bowls are made with fresh raw fish. If you using raw fish you MUST make sure its Sushi Grade which means you can consume it raw without having to cook it. Visit your local fish market or Sushi counter to ask them about it and usually they will either carry it or know where you can pick some up. If you're nice they'll even cut it up into little cubes for you too 😉 Some grocery stories might even have Sushi Grade fish. other options are just cooking up your fish or swapping out the fish entirely for a veggie option like tofu or roughly mashed chickpeas.
Step Four: Marinate in Flavour
Now that you got your protein you'll want to choose some a few different sauces and spices to give your bowl that umami flavour. Seasonings like soya sauce, rice vinegar, toasted sesame oil and lime are some good go to options to give your salmon or tofu a punch of flavour.
Step Five: The Garnish
This step is optional unless you're looking for that Instagram worth shot. Garnishing your Poke Bowl with some roasted seaweed, sesame seeds and fresh cilantro is the perfect way to add a few extra textures and flavours while adding a lovely aesthetic look to your bowl since we do eat with our eyes right?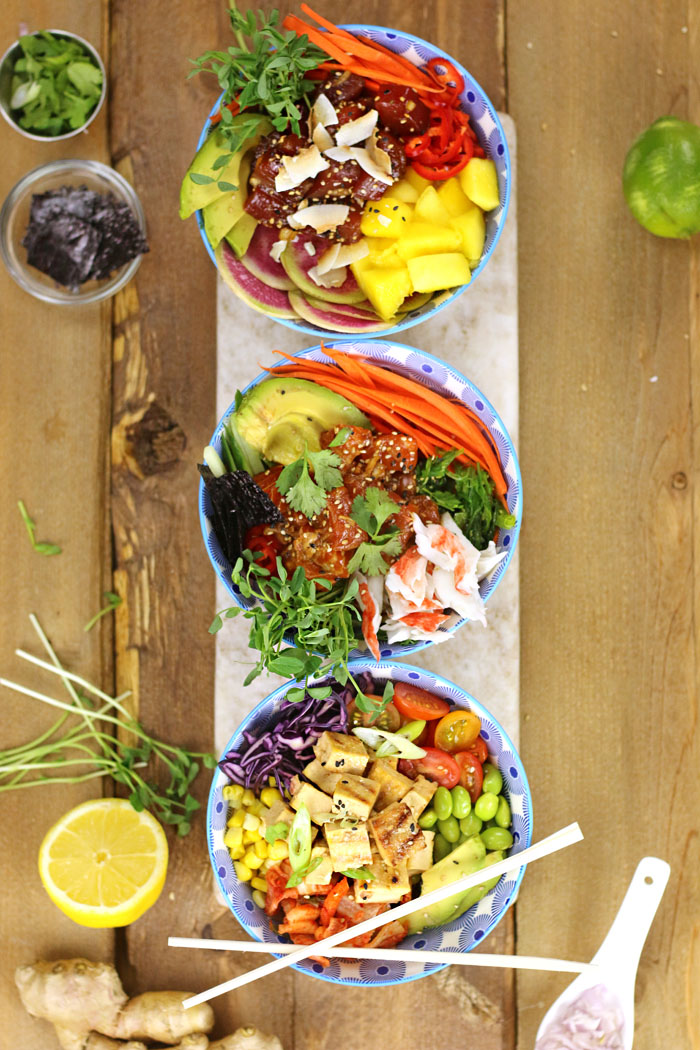 5 easy steps and you have your homemade DIY Poke Bowl right at home. Best part is you can invite some friends over and have a DIY Poke Bowl making party! Let me know which Poke Bowl flavour combination is your favourite in the comments down below? Is it the California, Hawaiian or Spicy Kimchi? Also, don't forgot to share and TAG me in your Instagram, Twitter and Facebook pics so I can easily find them and like them 🙂
DIY Poke Bowl 3 Ways
2017-06-18 15:19:30
Serves 2
How to make a healthy DIY Poke Bowl 3 ways!
California Poke Bowl
1 cup sushi grade salmon
1/2 cup imitation crab
2 cups cooked quinoa
1/2 cup julienned carrots
1/2 cup julienned cucumber
1/2 ripe avocado
1/2 cup seaweed salad
1/2 cup pea shoots
1 red chilli slices
Optional garnish: roasted seaweed, fresh cilantro, sesame seeds
Marinade
1 tsp finely chopped shallot
2 tbsp soya sauce
1 tbsp rice vinegar
1/2 tsp toasted sesame oil
1/2 tsp freshly grated ginger root
1/2 tsp sesame seeds
Hawaiian Poke Bowl
1 cup sushi grade tuna
2 cups basmati rice
1/2 cup sliced radish
1/2 cup julienned carrots
1/2 cup fresh mango cubed
1/2 cup ripe avocado
1/2 cup pea shoots
1 red chilli sliced
Optional garnish: sesame seeds, toasted coconut flakes
Marinade
1 tsp finely chopped shallot
2 tbsp soya sauce
1 tbsp rice vinegar
1/2 tsp toasted sesame oil
1 tsp honey
1/2 tsp lime zest
1/2 tsp sesame seeds
Spicy Kimchi Poke Bowl
1 cup grilled tofu cubed
2 cups soba noodles
1/2 cup red cabbage shredded
1/2 cup cherry tomatoes sliced
1/2 cup corn
1/2 cup edamame
1/2 cup avocado
1/4 cup kimchi
Optional garnish: sesame seeds, green onion
Marinade
1 tsp finely chopped shallot
2 tbsp soya sauce
1 tbsp rice vinegar
1/2 tsp toasted sesame oil
1 tbsp vegan mayonnaise
1 tsp Sriracha
1 tbsp lemon juice
1/2 tsp sesame seeds
Instructions
Cook your grains according to the box.
In a bowl add in 1 cup of grains or noodles.
Top with veggies onto the rice.
Next, in a separate bowl marinate your protein and let sit for 5-10 min before adding it to your bowl.
Add your marinated protein to your grains and veggie bowl and garish.
Healthnut Nutrition http://www.healthnutnutrition.ca/